Looking for a team-building activity? Or a fun group volunteering activity for your colleagues, team or group of friends? With "Fill the Freezer", the Parkdale Food Centre opens its kitchen up to groups (maximum 20 people) to prepare soups, stews, baked goods or other recipes of their choice to help fill our Community Fridge and Food Bank Freezer. 
What to Expect:
1. Our kitchen is open to groups of up to 20 adults to cook items to help stock our shelves and fill our freezers.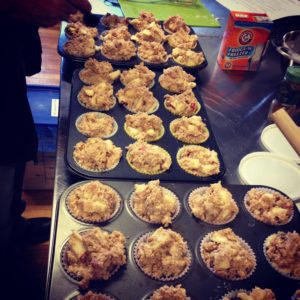 2. A Board Member or Staff Person will be present to offer you a short tour and talk about what we do at the Parkdale Food Centre and how we differ from the traditional Food Bank model.
3. You are expected to buy and bring the ingredients to prepare and package your recipe. We will distribute to our neighbours during the week (please only bring new/unopened grocery items to use for cooking and baking). We have a well-stocked pantry of ingredients such as cooking oil, baking soda/powder, spices, etc. so do not feel obligated to bring those types of things. If needed, we can provide you with recipes and a list of ingredients that have worked well for us, or use your own. We are open to other ideas as well – just let us know!
4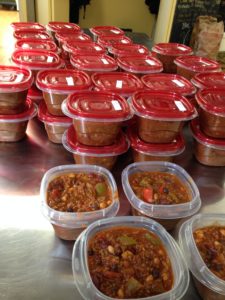 . Recipes that work well for this project are: Muffins; Soups or Stews; Granola; Chili. Note: If you choose to make muffins or granola, we ask that you also bring Ziploc bags to package the product.
5. We have structured the program so that we have a staff member or volunteer present to show you around and answer any questions. You will be shown how to use the kitchen and we ask that you leave the kitchen in the same condition you found it.
Frequently Asked Questions
● Does your kitchen have all the cooking-ware necessary? (pots, pans, etc)
○ Yes!
● How big of a batch should we be planning to make? How many portions should we make?
○ Completely up to you! We have hundreds of neighbours who routinely visit the Food Centre.
● Are we expected to bring the containers in which the food will be packaged after it is cooked?
○ We can provide 1L plastic freezer containers for soup; if you are planning to make something else, please bring containers or ziploc bags.
● How long can we expect to be there if we are planning to make a big batch of soup or chili? How long does it usually take for groups?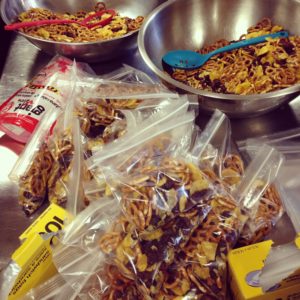 ○ Groups typically spend 2.5-3 hours
● Do you have a dishwasher or will be we expected to clean the dishes by hand? Should we bring soap and sponges?
○ We have an industrial dishwasher that is easy to use and runs on a 5 minute cycle 🙂
● Do you have parking?
○ There is 2 hour parking available on the street and a loading zone in front of the building.