About Fill the Freezer
The Fill the Freezer program is a great activity for a group of friends or colleagues to get together to literally help fill our freezers with good quality healthy meals for our neighbours.  Parkdale Food Centre opens its kitchen to your group (maximum 20 people) to prepare meals. Many groups use this opportunity to get together as a Team Building activity, or just a fun activity between friends and colleagues.  All of the prepared meals or baked goods are then shared with our neighbours in our Community Fridge and/or Food Bank Freezer.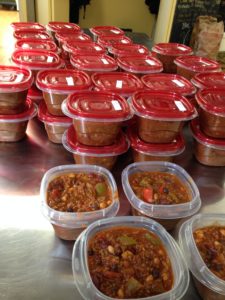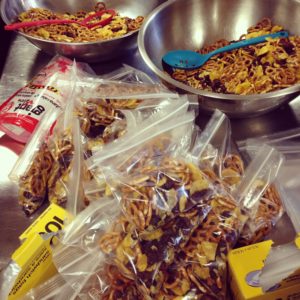 What to Bring to Your Event
Please purchase and bring all the ingredients that are needed to prepare the meals you will be making. We have a well-stocked pantry of ingredients such as cooking oil, baking soda/powder, spices, etc. which you may use.  Contact our Kitchen Manager, Simon Bell, with any questions about pantry items.  Bring only new/unopened grocery items to use for cooking and baking. Parkdale Food Centre will provide all of the containers to package your prepared foods for our freezers.
IMPORTANT NOTE: Once you decide on what recipe/meal you will be making please contact our Kitchen Manager, Simon Bell, to ensure that the meal you are planning to make can be stored properly in our containers and freezers.  Simon can also suggest meal ideas if you need that support.
General Information
When your group arrives at Parkdale Food Centre you will be greeted by a member of our Board or a Staff member or Volunteer who will offer you a short tour, and talk about what we do at the Parkdale Food Centre and how wediffer from the traditional Food Bank model.  The Centre representative will be on hand to answer any questions for the duration of your session.