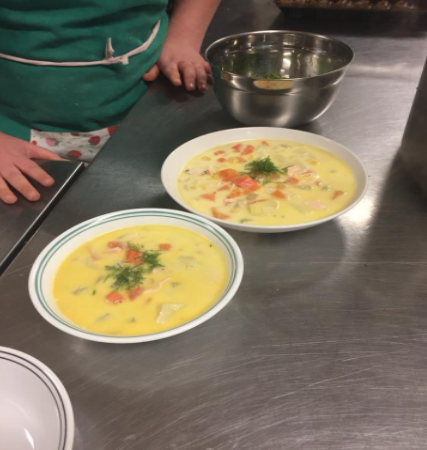 What do you see when you look at this photo? Bowls of steaming Salmon Chowder? Lunch? The hands of a child? Clean kitchen counters?  
When I see this photo I see #kindness and #caring – specifically the hands of #kindness and #caring.  
These hands belong to a young person who came to the Parkdale Food Centre to volunteer for a day during his School Holiday break.  He loves to cook, he idolizes Simon Bell the Kitchen Manager at Parkdale Food Centre, he loves to learn new things – like how to make biscuits or how to plate and present delicious meals to the many neighbours who need a hot meal on a very cold Ottawa day.  
On this very cold day he walked to and from the Parkdale Food Centre to volunteer his help because he cares and has a heart full of kindness towards the neighbours in his Community. He could have easily stayed home to play video games, watch TV or just hang out with his friends.  Instead he wanted to volunteer at Parkdale Food Centre and be part of a team in the kitchen giving back to the community.  He was there on Wednesday during one of the weekly Collective Kitchen workshops where neighbours gather and learn how to make delicious wholesome foods.  I was making Salmon Chowder and he helped me washing mounds of celery, and then peeling and cleaning big bowls of potatoes and carrots. He worked with Simon to produce the most delicious light and fluffy biscuits for lunch.  And after serving and sharing lunch with the neighbours he went back to peeling and cleaning carrots and potatoes.  That is what #kindness and #caring is all about.  That is what giving back to your community is all about.  That is why I was attracted to the Parkdale Food Centre – it's because of the #kindness and #caring that is a big part of the everyday activities at Parkdale Food Centre.  
I started out supporting Parkdale Food Centre by donating money to the Thirteen Social Enterprise for their bus tickets; then I became part of the Thirteen Social Enterprise team preparing their weekly lunches and often taking them to the Markets to sell their products. All the while being exposed to how much Parkdale Food Centre does for their community; so it was just a natural decision to become a monthly donor.  Now I also help out every Wednesday with kitchen work and sometimes I help teach neighbours new skills.   
Don't get me wrong, sure I am helping Parkdale Food Centre both financially and by volunteering in the kitchen, but this organization has given me back so much more.  I have a sense of community once again – something that I lost after I retired from a busy job as an Executive in the Government of Canada.  From the very first time I became involved with Parkdale Food Centre I felt this sense of being part of a larger community that gives back and does so much for their neighbours who, for whatever the reason, need extra support.  The #kindness and #caring atmosphere that I'm exposed to every time I enter Parkdale Food Centre makes me happy – I'm happy to know that my financial donations are turned around back to the local community to make the lives of the neighbours better. I'm happy that Parkdale Food Centre has provided an environment that encourages youth to be part of the community of giving back. The Youth today will be our future leaders and future organizers at Food Centres like Parkdale – I know that my financial contributions to Parkdale will ensure that the Youth continue to be involved and that the neighbours who need that little bit of extra support can continue to receive it.
I'm oh so happy to be part of this community of #kindness and #caring.  
Article by Deb Abbott.