Karen Secord, Executive Director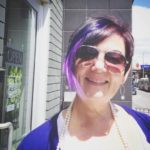 Karen landed on the doorstep of the Parkdale Food Centre in October 2012 without any real understanding of the work ahead of her. A lifelong storyteller, Karen believes that change happens one person at a time, one story at a time. And that good food has the universal power to bring people together. Karen's passion for people and commitment to social justice intersect at the Parkdale Food Centre, reminding her that this is what she has always been meant to do.
Contact Karen: 613-722-8019 EXT 101 karen@parkdalefoodcentre.org
Sarah Phillips, Centre Manager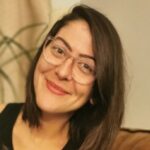 Sarah spent much of her childhood helping her grandparents with their organic garden on a farm outside of Brockville where she was born. After spending 12 years working in Tanzania she is returning to her roots to serve her community. When she heard about PFC she knew this was her opportunity to do so.  With a background in Development Studies, she believes that people need to be at the centre of their own development.  Sarah is committed to building resilient communities and implementing a holistic approach through empowerment, capacity building and compassion.
Contact Sarah: 613-722-8019 EXT 102 sarah@parkdalefoodcentre.org
Simon Bell, Kitchen Manager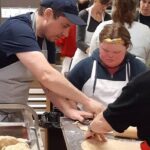 Simon is a long standing veteran of the Ottawa food scene. Having worked in Kitchens since the mid nineties, from Montreal to Paris, he prides himself on having a deep understanding of the diversity of food and its impact. In Ottawa he was part of the team that brought Oz Kafe to the forefront of the Chefs community and now finds himself at the helm of the Parkdale Food Centre Kitchen where he takes pride in his ability to learn from others and impart his own knowledge and understanding of food. Simon uses his voice and privilege as a Chef to help bring opportunities to those who enter the Parkdale Kitchen, to learn, grow and teach others their own personal food stories.
Contact Simon: 613-722-8019 EXT 103 simon@parkdalefoodcentre.org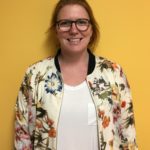 Meagan has been with the Parkdale Food Centre since 2016 as a volunteer doing intake for the Foodbank. She has now taken on the role as Team Lead for Thirteen: A Social Enterprise. Meagan graduated with a degree in Social Work From Ryerson University in 2013 and runs a small farm business growing organic vegetables on the side. She believes that by using food, you can create opportunity and connections in your community and beyond.
Contact Meagan: 613-722-8019 EXT 113 meagan@parkdalefoodcentre.org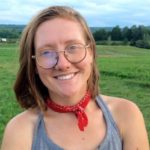 Karin is a new resident of Ottawa who came to the Parkdale Food Centre looking to build new community in a meaningful way. She is very excited to be filling in for Elle this summer as the Growing Futures Coordinator! As part of the PFC team, Karin leads Solutionary Workshops to engage children and youth in solving big community problems. As a new, small-scale, organic farmer she believes in the positive impact of exposing people to good food and the value of sharing meals and conversations with others. Don't be surprised if she has a little dirt under her fingernails from time-to-time!
Contact Karin: 613-722-8019 EXT 106 growingfutures@parkdalefoodcentre.org
Tamara Kalnins, Community Kitchen Assistant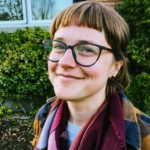 Tamara's passion for food was ignited when she was given her first cookbook on her 10th birthday. She has been making people smile with her food ever since. She loves baking with sourdough, growing vegetables and creating vegan versions of her family's favourite dishes. She comes to Parkdale Food Centre after years of cooking in restaurants and cafes around Ottawa. Contact Tamara: tamara@parkdalefoodcentre.org
Erica Braunovan, Ottawa Community Food Partnership Manager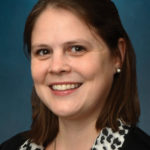 Hailing from a small agricultural town in Southern Manitoba, Erica was born part sheepdog. Her natural herding abilities drive her desire to connect with people to bring them together and build strong networks. Erica's life-long passion for community and community building was developed when she was first exposed to issues of poverty in the late 90s. She quickly determined that band-aid solutions would not bring about the transformational societal change that is needed for our communities to thrive.
Contact Erica: 613-722-8019 EXT 108 erica@parkdalefoodcentre.org
Heather Bruce, Food Bank and Volunteer Manager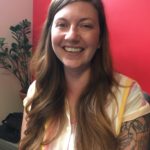 Growing up in rural South Western Ontario, nature was everywhere, as were farms. From a young age Heather was a curious explorer and nature obsessed.  Studying Environmental Studies at York University left Heather with strong convictions about industrial agriculture, food security and poverty: asking questions about how we got here and where we are going. Spending the last decade working passionately in hospitality, Heather is thrilled to be part of the Parkdale Food Centre team and our community!
Contact Heather: 613-722-8019 EXT 105 heather@parkdalefoodcentre.org
Anna March, Community Kitchen Coordinator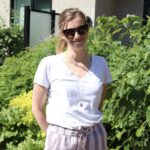 Anna has been a chef by trade for over 10 years. Since completing the culinary program at Algonquin College, she has been honing her skills and developing her craft all across Canada. She has worked in celebrated restaurants in Ottawa, Montreal, and Vancouver, most recently as executive chef at Mariposa Farms as well as executive chef at The Urban Element. Anna is a chef instructor at Algonquin college and founding partner of Cultivating Cooks. Drawing from her experiences working with local farmers, chefs and teaching the public hands on cooking classes, she is developing programming to promote food literacy, accessibility and sustainability anywhere she can.  She is eager to make positive change in the way we eat and with the support of her colleagues, partners, community and family, you can expect to see her sharing her passion for real food across as many dinner tables in Ottawa as she can.
Contact Anna: 613-722-8019 EXT 104 anna@parkdalefoodcentre.org
Megan Aubin, Cooking for a Cause Coordinator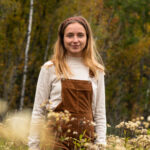 Megan has been passionate about food from a young age. From gardening to cooking for others she loves being involved in helping people have access nourishing and healthy food. She is currently completing a certificate in Food Security at Ryerson University which has helped her develop an even better understanding of the importance of eating local and seasonal food by either supporting local farmers or maintaining a community garden. Megan has joined the Parkdale Food Centre team as the cooking for a cause coordinator, and she is very excited to be involved in a program that will support the Ottawa community and local businesses.
Contact Megan: 613-722-8019 EXT 109 cookingforacause@parkdalefoodcentre.org
Meredith Kerr, Communications and Donor Relations Manager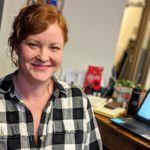 Meredith has curated meaningful experiences around the table for most of her life. It was no accident that she landed on the doorstep of PFC, inspired by the work and commitment to the community she grew up in. With a background in events, volunteer and donor stewardship union and employment standards, she hopes that together, we may build a longer table.
Contact Meredith: 613-722-8019 EXT 111 meredith@parkdalefoodcentre.org
Rebecca Dorris, Neighbour Experience and Opportunity Coordinator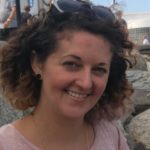 Rebecca has always had a passion for cooking, eating, and helping others access healthy meals and build food skills. Her background is in counselling, with a primary focus on helping marginalized youth overcome life challenges. She has supported youth to realize their potential, build life skills, and access the resources in their communities that will help them thrive as productive and valued members of society. In her role as the Neighbour Experience and Opportunity Coordinator, she helps engage the PFC community on advocacy issues related to food security and poverty reduction.
Contact Rebecca: 613-722-8019 EXT 110 rebeccam@parkdalefoodcentre.org
Inaya Siblini, Food Bank Coordinator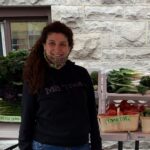 Inaya started volunteering at Parkdale Food Centre in August 2019 and is now part of our staff team as Food Bank Assistant Coordinator, providing core support that has enabled our food bank to adapt to COVID 19. It has always been Inaya's ambition to find a position in a place where she can make a positive impact. Inaya finds happiness in drawing a smile on a neighbour's face, in helping them, and  in making everyone feel like they live in a supportive environment full of love and care.
Alexia Smith, Good Food Chauffeur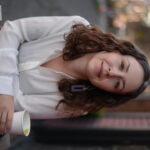 Alexia recently moved back to Ottawa from Montreal so to be closer to her community at a time when she felt disconnected from any community. She is 
looking forward to making new connections here and deepening existing ones.  At the end of the day, it's all about community!  Alexia is passionate about supporting her community and has always been interested in mental health. At PFC, she works to support the basic needs that are essential to everyone's wellbeing. 
Contact Alexia: 613-722-8019 EXT 112 alexia@parkdalefoodcentre.org
Alissa Campbell, Centre Manager (on leave)
Alissa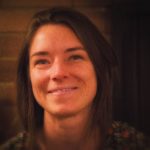 has been following her love for food from her days in the family vegetable garden as a child all the way to the Parkdale Food Centre. Along the way she has immersed herself in organic farming and spearheaded the growth of school gardens across the city. With a background in Environmental Studies and Food Policy, she is deeply committed to contributing to a stronger, healthier, more sustainable food system, and to bringing people together around the table. Contact Alissa: alissa@parkdalefoodcentre.org
Ghita El Janaty, Digital Storyteller Coordinator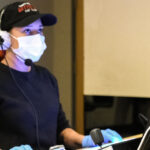 Ghita El Janaty, also known as Rita ELJ in the film and television industry, is a young, multi-skilled individual: editor, producer, technical director… These are a few of the hats Rita wears. A member of the first Thirteen: A Social Enterprise cohorts, Rita's business-driven personality has led her to start her own television and film production- Pronounced R Productions. Being an only child in an immigrant household, Rita has a unique view on the world and our society. Her current mission? To tell Neighbours' stories through compelling short videos. Contact Ghita: ghita@parkdalefoodcentre.org
Morissa-Dalia Ellis, Growing Futures Coordinator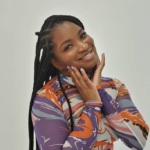 Morissa-Dalia Ellis has spent all her life living in Ottawa and for this reason, has built a community in all aspects of her life. An unfortunate picky eater, Morissa learned to cook very early, finding a great love of food, spices and feeding loved ones. Self-proclaimed professional samosa folder, taking care of her community has always had feeding people at its core.  Through the facilitation of a book club for ACB women, throwing a prom for ACB womxn and organizing through @blkgurl_ she always wants to make sure her people are fed and taken care of. Intersectionality, food insecurity and creating safer spaces are things that motivate her and she hopes that she can bring her lived experiences and identities to her role as Growing Food Coordinator. Fun facts, Morissa gave a TEDXTALK, she has a playlist for all aspects of her life and she likes to act like she's in a documentary. 
Contact Morissa: 613-722-8019 EXT 107 morissa@parkdalefoodcentre.org
Hania Manouzi, Digital Communications Coordinator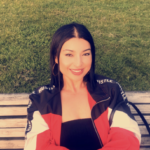 Hania Manouzi is an experienced Digital Marketer, born and raised in Ottawa. Driven by community, passion, and purpose, she takes pride in creating digital content. A true foodie at heart and adventurer, she had the opportunity to travel all over North America to increase awareness for different organizations in key markets such as Montreal, Vancouver & San Francisco. Through passion & purpose, Hania has created a virtual women's fitness program to facilitate a safe space for all women to love & embrace fitness: Eternal Queens Fitness. With that being said, Hania is committed to challenging food insecurity & providing a safe space to our Neighbours. Contact Hania: hania@parkdalefoodcentre.org
Libin Omar, Thirteen Social Media Coordinator & Youth Mentor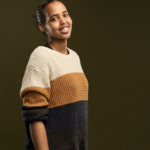 Libin is a Social Media Coordinator and youth mentor with Thirteen A Social Enterprise. Libin first became involved with Parkdale Food Centre in 2016 as a participant of the Thirteen program and proceeded to get more and more involved. She has a keen interest in business and is currently enrolled in a food business management program at Algonquin College. Libin is one to watch for in the community.
Owen Domingo Wessan, Growing Futures Assistant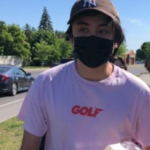 My full name is Owen Domingo Wessan. I enjoy drawing and other forms of digital art. I also love listening to all types of music from experimental rap to indie music. I am a big believer in the power of knowledge. When it comes to social issues, I believe that learning and research are some of the most important parts of resolution and change. I love learning about different cultural viewpoints and aspects. My mom is an immigrant from the Phillippines, so that opened the door for me to explore different cultures from a young age. Overall, I love to learn new things and meet new people.
Gillian Isabel, Food Bank Assistant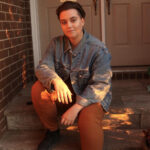 Gillian Isabel is a young individual passionate about community and intersectional activism. She spends most of her free time creating jewelry and pins that she uses to fundraise for various community groups and members, though she has not been active on her Instagram page, @littlequeerfeminist for a few months. She recently graduated from high school and will be attending La Cité Collégiale in the fall studying social work techniques with a focus on reintegration and rehabilitation. Recently, she has been rediscovering some of her old hobbies such as reading and playing music. Gillian is happy and grateful to be back at PFC a second time for the summer of 2021.
Abby Muir,  Community Development Worker, Ottawa Community Food Partnership.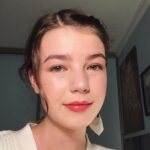 Abby Muir is a Community Development Worker for the Ottawa Community Food Partnership. Currently enrolled in the Bachelor of Early Learning and Community Development program at Algonquin College, Abby is seeking out new experiences through this internship position. Abby is passionate about building a strong community and is learning all the tricks of the trade through this fantastic team. She hopes to help OCFP in engaging all the necessary tools in order for our Neighbours and community to thrive.
Nafisa Ali,  Community Development Worker, Ottawa Community Food Partnership.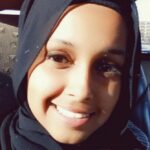 Nafisa is an intern student from Algonquin College doing her undergraduate in the Bachelor of Early Learning and Community Development program. She has joined the Ottawa Community Food Partnership team as a community development worker. Nafisa enjoys travelling, experiences new cultures and learning new languages. Through this position Nafisa is excited to learn and grow as a future community developer. She is passionate in helping the community and building a connection with them. Nafisa hopes to gain lifelong skills that she can apply to her career once she graduates. 
Charlene Peters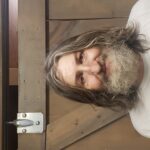 Cliff was raised on a dairy farm in eastern Ontario where he developed his fierce work ethic and passion for food in its most natural state. Always keen to help when needed no matter the task Cliff's can-do attitude helps PFC tick. A strong advocate for those who live in poverty, and particular rooming houses, his abilities, and his compassion are integral to helping PFC become an even more equitable organization.
Francis Atanya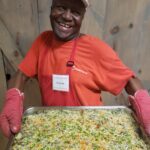 Francis was born and raised in a rural town in Uganda where he helped feed his family from a very young age while working the land. This upbringing taught him the value of good food and how it can help bring about change. He is, without a doubt, the life of the party wherever he goes and his exuberance and boisterous laugh help the staff stay positive through tough times. We couldn't do it without him.
Sabiha Sadaka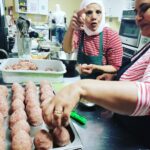 Saba is a long-standing veteran of the Ottawa restaurant scene, where she spent over a decade doing it all in the kitchen. She is our swiss army knife, as there is no task too big or small that she doesn't take head-on. Raised on a cotton and barley farm in Egypt she learned what it meant to "put the work in" to see results, and her compassion and understanding are an inspiration to us all.
Nahed Moawad, Administrative Assistant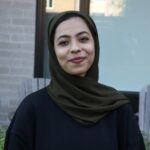 Nahed Moawad recently started working at PFC as an administrative assistant. She obtained her bachelor's degree in accounting at the University of Al-Azhar, Palestine, her home country. She also recently graduated from the office assistant program at St. Lawrence College and will be attending Algonquin College in the fall to study English. Nahed enjoys reading novels in her free time. She looks forward to meeting new people and helping the community here in Ottawa through her work at PFC.
Rawan Ahmed, Ottawa Community Food Partnership Relief Coordinator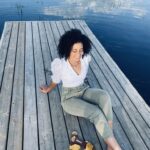 Born and raised in Egypt Rawan had a passion for food as a big portion of her memories involves food in one way or another. One of the biggest values that her family holds is the importance of family meals and her grandma never failing to overflow everyone's stomachs and send everyone home with leftovers. She was also an active member of the community at a very young age. Her passion for food justice has been sparked by the Arab spring risings and the Egyptian revolution. Moving to Canada she has been determined to use all her passion and use the power of food and principles of hospitality inherent in her Arabic culture to build a stronger community. Having studied Law, Art and worked as a professional baker PFC was exactly where she's meant to be to utilize all of her pathways and intersections. She aspires to continue her studies and work in the Food Justice Field.
Corey Fletcher (They/Them), Youth Liaison at Thirteen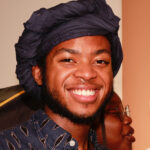 Corey has always been deeply passionate about food and spices, whether it be cooking, eating, or growing, and the ways in which culture can be cultivated and exchanged through a shared meal. Growing up having the opportunity to travel and taste foods from around the world, they have seen and experienced how food is a language that unites us all.  Currently studying Health Psychology at Carleton University, Corey enjoys Creating safe spaces and connecting youth of all ages with the land and the intricate process of growing food, as it all pertains to healthy living for their community. From teaching kids to swim, to advocating for and destigmatizing neurodivergence and our 'Gut-Brain', Corey is aware of the nuances of our biological environment, societal structures, social paradigms, and how food security plays a crucial role through their interconnection.
Chef Troy Stewart, Virtual Cooking Workshop Coordinator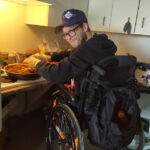 Chef Troy has worked as a private chef for 10+ years for clients in various capacities. From making weekly meals to catering to private functions. His clients included MPPs in BC and Ontario, Supreme Court justices, and lawyers. He found his passion for cooking at a young age watching his Mum in the kitchen. He had to retire from this when he suddenly was diagnosed with Ataxia. He was placed in a retirement home and told he'd never walk or be able to work again. He has fought hard to take his disability and use it. He wants to help others with disabilities, cultivate a passion for food and gain better independence through learning easy healthy meals. Before he was diagnosed with ataxia he taught in BC, ON, QC, the Netherlands, England, and Spain. Food for Chef Troy is such a great way to bring people together. With this new program, he hopes to do just that and let others see that being disabled is not a barrier but a way we can come together over the table and grow our community.