Karen Secord, Executive Director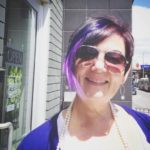 Karen landed on the doorstep of the Parkdale Food Centre in October 2012 without any real understanding of the work ahead of her. A lifelong storyteller, Karen believes that change happens one person at a time, one story at a time. And that good food has the universal power to bring people together. Karen's passion for people and commitment to social justice intersect at the Parkdale Food Centre, reminding her that this is what she has always been meant to do. Contact Karen: karen@parkdalefoodcentre.org
Alissa Campbell, Centre Manager
Alissa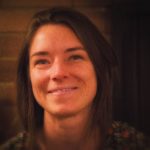 has been following her love for food from her days in the family vegetable garden as a child all the way to the Parkdale Food Centre. Along the way she has immersed herself in organic farming and spearheaded the growth of school gardens across the city. With a background in Environmental Studies and Food Policy, she is deeply committed to contributing to a stronger, healthier, more sustainable food system, and to bringing people together around the table. Contact Alissa: alissa@parkdalefoodcentre.org
Simon Bell, Kitchen Manager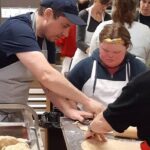 Simon is a long standing veteran of the Ottawa food scene. Having worked in Kitchens since the mid nineties, from Montreal to Paris, he prides himself on having a deep understanding of the diversity of food and its impact. In Ottawa he was part of the team that brought Oz Kafe to the forefront of the Chefs community and now finds himself at the helm of the Parkdale Food Centre Kitchen where he takes pride in his ability to learn from others and impart his own knowledge and understanding of food. Simon uses his voice and privilege as a Chef to help bring opportunities to those who enter the Parkdale Kitchen, to learn, grow and teach others their own personal food stories. Contact Simon: simon@parkdalefoodcentre.org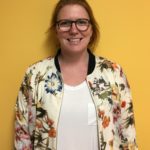 Meagan has been with the Parkdale Food Centre since 2016 as a volunteer doing intake for the Foodbank. She has now taken on the role as Team Lead for Thirteen: A Social Enterprise. Meagan graduated with a degree in Social Work From Ryerson University in 2013 and runs a small farm business growing organic vegetables on the side. She believes that using food, you can create opportunity and connections in your community and beyond. Contact Meagan: meagan@parkdalefoodcentre.org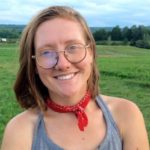 Karin is a new resident of Ottawa who came to the Parkdale Food Centre looking to build new community in a meaningful way. She is very excited to be filling in for Elle this summer as the Growing Futures Coordinator! As part of the PFC team, Karin leads Solutionary Workshops to engage children and youth in solving big community problems. As a new, small-scale, organic farmer she believes in the positive impact of exposing people to good food and the value of sharing meals and conversations with others. Don't be surprised if she has a little dirt under her fingernails from time-to-time! Contact Karin: growingfutures@parkdalefoodcentre.org
Tamara Kalnins, Thirteen: A Social Enterprise Coordinator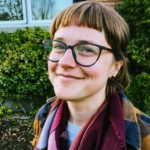 Tamara's passion for food was ignited when she was given her first cookbook on her 10th birthday. She has been making people smile with her food ever since. She loves baking with sourdough, growing vegetables and creating vegan versions of her family's favourite dishes. She comes to Parkdale Food Centre after years of cooking in restaurants and cafes around Ottawa. She is working as Coordinator for Thirteen: A Social Enterprise and is excited to be working towards community empowerment through food. Contact Tamara: tamara@parkdalefoodcentre.org
Erica Braunovan, Ottawa Community Food Partnership Coordinator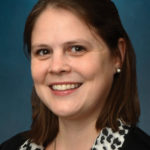 Hailing from a small agricultural town in Southern Manitoba, Erica was born part sheepdog. Her natural herding abilities drive her desire to connect with people to bring them together and build strong networks. Erica's life-long passion for community and community building was developed when she was first exposed to issues of poverty in the late 90s. She quickly determined that band-aid solutions would not bring about the transformational societal change that is needed for our communities to thrive. Contact Erica: erica@parkdalefoodcentre.org
Heather Bruce, Food Bank and Volunteer Coordinator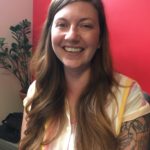 Growing up in rural South Western Ontario, nature was everywhere, as were farms. From a young age Heather was a curious explorer and nature obsessed.  Studying Environmental Studies at York University left Heather with strong convictions about industrial agriculture, food security and poverty: asking questions about how we got here and where we are going. Spending the last decade working passionately in hospitality, Heather is thrilled to be part of the Parkdale Food Centre team and out community! Contact Heather: heather@parkdalefoodcentre.org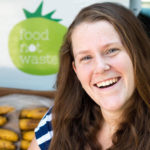 Elle comes from a farm in southwestern Ontario where she learned from a young age the importance of working hard and eating well. It was in Kitchener, studying Peace and Conflict at the University of Waterloo, that Elle first discovered her passion for food, business, and social enterprise. She started a small social enterprise, Food Not Waste, to reduce food waste and hunger in the community. Now in Ottawa, Elle runs a small side business teaching people how to cook and ferment from her home and is excited to use her combined passion for food and business at the Parkdale Food Centre. Contact Elle: elle@parkdalefoodcentre.org
Anna March, Community Kitchen Coordinator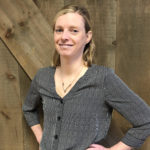 Anna has been a chef by trade for over 10 years. Since completing the culinary program at Algonquin College, she has been honing her skills and developing her craft all across Canada. She has worked in celebrated restaurants in Ottawa, Montreal, and Vancouver, most recently as executive chef at Mariposa Farms as well as executive chef at The Urban Element. Anna is a chef instructor at Algonquin college and founding partner of Cultivating Cooks. Drawing from her experiences working with local farmers, chefs and teaching the public hands on cooking classes, she is developing programming to promote food literacy, accessibility and sustainability anywhere she can.  She is eager to make positive change in the way we eat and with the support of her colleagues, partners, community and family, you can expect to see her sharing her passion for real food across as many dinner tables in Ottawa as she can. Contact Anna: anna@parkdalefoodcentre.org
Younesse Krama, Food Bank Assistant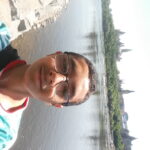 Born and raised in Calgary for most of his life, Younesse has been contributing to the community and helping others since he was 12. Ever since then he has obtained community building skills like organization, cooperation, reflection and commitment. He also has a passion for aiding neighbours in need in any way he can, no matter their differences. In the past 2 years as a new resident to Ottawa, Younesse has utilized these skills in recent school events and by volunteering. Presently, he can't wait to use these skills, as well as learning new ones, to help PFC with its mission in establishing a better community.
Gillian Walsh, Food Bank Assistant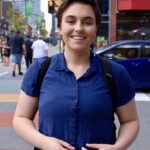 Gillian Walsh is a high school student passionate about social justice. She was drawn to the Parkdale Food Centre because she believes that everyone should have access to nutritious food and appreciates the way the centre functions. Gillian firmly believes in putting an end to poverty and uplifting her fellow community members. In her free time, she writes about amazing women and non binary people on her blog, as a way to further her activism and to express herself through a creative outlet.
Tashnim Jerin, Communications Coordinator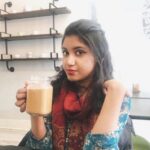 Tashnim (pronounced as Tas-nim) is a creative strategist with a passion for storytelling. As a daughter of Bangladeshi immigrants, she has always shared a nostalgic connection with food. With a background in policy and oral history, she is interested in using digital communications to explore food memories and food security in diasporic communities. She believes in nurturing healthy minds and bodies- both at the individual and communal level, through the creation of a sustainable and equitable food system
Megan Aubin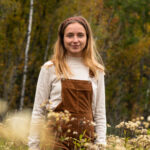 Megan has been passionate about food from a young age. From gardening to cooking for others she loves being involved in helping people have access nourishing and healthy food. She is currently completing a certificate in Food Security at Ryerson University which has helped her develop an even better understanding of the importance of eating local and seasonal food by either supporting local farmers or maintaining a community garden. Megan has joined the Parkdale Food Centre team as the cooking for a cause coordinator, and she is very excited to be involved in a program that will support the Ottawa community and local businesses.
Sam Hersh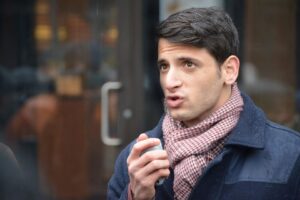 Originally from Montreal, Sam moved to Ottawa in 2016 to complete his Master's degree at Carleton university. Ever since then, he has been involved in different progressive political and issue-based campaigns in Ottawa that support social, environmental and economic justice that fight for systemic change at different levels of government. He hopes to bring his excitement and enthusiasm for social justice to Parkdale in his new role as Volunteer Re-Engagement Coordinator. The COVID-19 pandemic has been a tough time for everyone but now with the situation constantly changing, Sam hopes to be able to bring volunteers back on board to continue the great work of Parkdale and the partners in the Community Food Partnership with their mission to build healthier, more connected neighbourhoods.
Meredith Davis (currently on leave)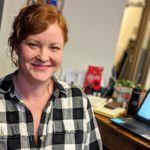 Meredith has curated meaningful experiences around the table for most of her life. It was no accident that she landed on the doorstep of PFC, inspired by the work and commitment to the community she grew up in. With a background in events, volunteer and donor stewardship and employment standards, she hopes that together, we may build a longer table.
Rebecca McCaffrey, Neighbour Experience and Opportunity Coordinator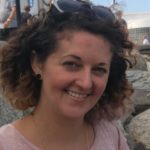 Rebecca has always had a passion for cooking, eating, and helping others access healthy meals and build food skills. Her background is in counselling, with a primary focus on helping marginalized youth overcome life challenges. She has supported youth to realize their potential, build life skills, and access the resources in their communities that will help them thrive as productive and valued members of society. In her new role as the Neighbour Experience and Opportunity Coordinator, she is excited to help engage the PFC community on advocacy issues related to food security and poverty reduction. This role will help increase social awareness and guide informed social change on the challenges most impacting our community.