MARK YOUR CALENDARS!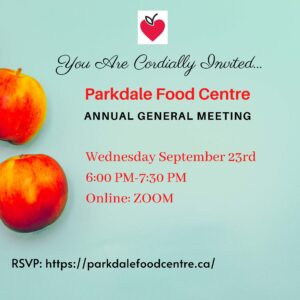 We invite you to attend our Annual General Meeting (AGM) on Wednesday September 23rd, between 6:00 pm and 7:30 pm.  Due to COVID-19, we have decided to hold our AGM in a virtual environment.
We still intend to have a wonderful evening, with a special guest speaker, special awards, the unveiling of our 2020-2023 Strategic Plan, and of course, our 2019 Annual Report.
To RSVP, fill out the Google Form below and we will send information regarding how to join and procedures for voting.
We hope to see many of our community members and neighbours, as we reflect on 2019 and share our vision for 2020!