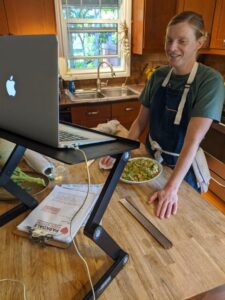 Do you miss our weekly cooking workshops at PFC? We miss you too! We are now hosting a series of online cooking workshops led by our very own Chef Anna! You can follow along at home, while watching the live demonstrations and interacting with other participants.
The best part? All ingredients are delivered straight to your home before the workshop, so you can follow along and enjoy a delicious meal afterwards!  When we're spending so much more time at home these days, we hope this will be a fun way to reconnect and bring some healthy food inspiration to your home!
When:
Once a week on Thursdays from 11:00 AM- 12:00 PM via Zoom. All ingredients will be delivered, or can be picked up on Wednesday afternoons, along with a recipe.
You will need to fill out a Google Form in order to sign up each week, no later than the Tuesday to get your ingredients in time. To sign up for this week's workshop click HERE 
Note: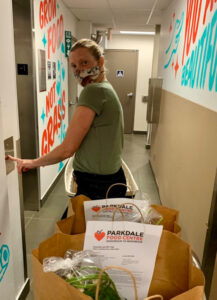 Assistance for access to a computer and internet can be provided through PFC upon request. Should the participants need access to a computer or the internet,  please reach out to Anna personally and she will make the required arrangements.
Participants will require some basic kitchen access and equipment (such as: sink, stove, oven, cutting board, small knife, small sauce pot and lid or saran, colander, spoons, dish soap, mixing bowl, baking sheet and hand towels). If these items are not available, please advise and we will try to provide them.
For further inquires email Anna: anna@parkdalefoodcentre.org