IMPORTANT, please note this program is temporarily paused! We will get back to you when things resume.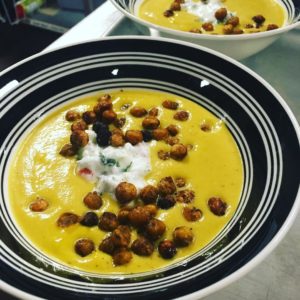 Looking for a group team-building opportunity? Or a fun activity between friends and colleagues? Fill the Freezer program is a great activity for a group of friends or colleagues to get together to literally help fill our freezers with good quality healthy meals for our neighbours.  Parkdale Food Centre opens its kitchen to your group (maximum 20 people) to prepare meals.   When your group arrives at Parkdale Food Centre you will be greeted by a member of our Board or a Staff member or Volunteer who will offer you a short tour, and talk about what we do at the Parkdale Food Centre and how we differ from the traditional Food Bank model.   All of the prepared meals or baked goods are then shared with our neighbours in our Community Fridge and/or Food Bank Freezer.
Note: This is an independent activity, a Centre representative will be on hand to answer any questions for the duration of your session, but will not be expected to help in the food preparation or cleaning.
What to Bring
Groups are required to bring all the ingredients that are needed to prepare the meals they will be making. We have a well-stocked pantry of ingredients such as cooking oil, baking soda/powder, spices, etc. which you may use.  Contact our Kitchen Manager, Simon Bell, with any questions about pantry items.  Please bring only new/unopened grocery items to use for cooking and baking. Parkdale Food Centre will provide all of the containers to package your prepared foods.
Once you decide on what recipe/meal you will be making please contact our Kitchen Manager, Simon Bell, to ensure that the meal you are planning to make can be stored properly in our containers and freezers.  Simon can also suggest meal ideas if you need that support!
Frequently Asked Questions
Is there a cost?

There is no cost to participate in Fill the Freezer, however we do encourage a suggested donation of $5 per participant to help defray the cost of packaging and staff supervision time. A donation box is located on the wall in the Centre.
What times and days of the week are available? Wednesdays 2-5pm and Fridays 9am-12pm and 1pm-4pm (Every second Wednesday of the month we can offer another timeslot from 4pm-7pm).
Does your kitchen have all the cooking-ware necessary? 

Yes! We have a well equipped kitchen with many pots, pans, mixing bowls etc.

How many meals should or portions should we make?

 

This is completely up to your group. Parkdale Food Centre serves hundreds of neighbours routinely and no amount is too small or too big.

How long can we expect to be there if we are planning to make a big batch of soup or chili? How long does it usually take for groups? 

Typically groups spend 2.5 to 3 hours in the kitchen from start to finish. If you are making soups/stews, you must budget to stay until the

recipe

 is properly cooled for refrigeration (we have an ice-wand to help with this process).

Do you have a dishwasher? 

We have an industrial dishwasher that is easy to use and runs on a 1 minute cycle. A staff member or volunteer will provide you with directions on how to use it. You are expected to leave the kitchen as clean as when you arrive.

Do you have parking?

 

There is 2-hour free parking available on the street, weekdays between 9am-6pm (no limit after 6pm). We have a loading zone in front of the building.
This program is temporarily paused! We will get back to you when things resume.