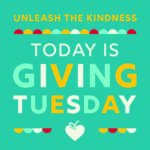 Today is the day…
A day where we unite
A day where we unify in the community
A day where, as a community, we unleash kindness.
Unleash The Kindness
One of our kind donors will be matching donations during Giving Tuesday! That means that for every dollar you donate, your donation will be matched!We are grateful to be a part of such a kind community.
The Parkdale Food Centre is asking for you to UNITE for #GivingTuesday movement in spreading kindness across the community. 

Help us ensure everyone in our community has access to good food, Neighbour to Neighbour.
Unleash The Kindness