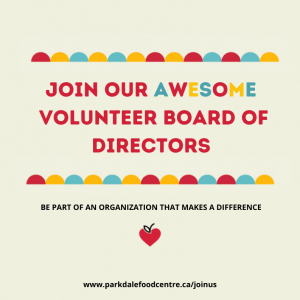 Volunteer Board of Directors Description and application information:
The Parkdale Food Centre (PFC) is seeking candidates to join our Volunteer Board of Directors.

This is an exciting opportunity to be part of a dynamic group of people who are helping to guide
and shape the work of a growing and impactful non-profit dedicated to improving the lives of
underserved community members (Neighbours) in the Ottawa area.

PFC is dedicated to championing equity, diversity and inclusion in our work and in our community. We are committed to recruiting a Board of Directors that is representative of the
community we serve.
Applications from all of our communities are welcomed.
In your application, we ask that you share your experience (both lived and professional) that you
will lend to our work
. We are looking for individuals with the following skills and expertise:

● Passion for PFC's vision and mission

● Good understanding of the charitable sector and the governance role of boards.

● Experience with any of the following; governance, finance and/or accounting, experience
working with marginalized and equity seeking communities, advocacy, communications,
marketing, health, fundraising/development, food insecurity and poverty reduction, non-
profit management, planning and/or design.

Due to COVID-19 the PFC Board has continued to meet via ZOOM monthly. Additionally, Board
members are required to participate in at least one committee or working group.

Anticipated Start Date: This can be flexible to meet candidates needs, but ideally we hope to welcome new Board Directors at the Parkdale Food Centre Annual General Meeting in May of
2022.

We will be reviewing applications and conducting interviews on a rolling basis up to March 31,
2022.
We are grateful for all applications, and will only be contacting candidates invited for an interview.
Please send your resume and cover letter in confidence to deb@parkdalefoodcentre.com
The Parkdale Food Centre is an equal opportunity employer committed to equity,
diversity and inclusion. We encourage and welcome applications from all of our
communities. If at any stage in the selection process you require special
accommodation, please be in touch with deb@parkdalefoodcentre.org to discuss the
nature of your requirement.
The Parkdale Food Centre is committed to respecting diversity and inclusion for all. We strive to ensure that our programs are reflective of the communities we serve and that everyone- all of our Neighbours have an equitable seat at the PFC community table.
Responsibilities and Obligations of Parkdale Food Centre (PFC) Board Directors
The Board of Directors is legally responsible for the governance of PFC. The Board works with
the staff to set policies, budgets and strategic plans to ensure that PFC achieves its vision and
mission.
They support the Executive Director to set the mission of the organization and ensure
fiscal accountability and the long-term resiliency of the organization.

Within the larger framework of responsibilities, individual board members must each fulfillcertain obligations to the Parkdale Food Centre (PFC).

Those obligations include:

● Attend at least 9 board meetings each year, and as required committee meetings, and
be willing to participate in events that benefit PFC.
● Stay informed about board and committee matters, review and comment on minutes and
reports.
● Stay informed about the PFC's mission, services, policies and programs.
● Keep up-to-date on developments in the PFC.
● Follow developments in the community, economy, government, etc. that may affect PFC.
● Serve on committees, or on working groups or on special task forces, and offer to take
on special assignments.
● Where possible make a personal financial contribution to the organization.
● Participate in PFC's fundraising efforts.
● Inform and educate others about the organization.
● Get to know other members; build working relationships that contribute to consensus.
● Suggest nominees to the board Chair and Deputy Chair, who can make significant
contributions to the work of the board and PFC.
● Follow conflict of interest and confidentiality policies as outlined in the PFC Board of
Directors On-boarding book and Bylaws.
● Assist the board in carrying out its fiduciary responsibilities such as reviewing the
organization's annual financial statements.
● Participate actively in the board's annual evaluation and planning efforts.
NOTE:
● Board members have no individual authority separate from the board.
● Board members are expected to support decisions of the board, regardless of personal
desires and/or opinions.
● As per Canada Revenue Agency and Ontario Provincial Regulations, board members
will not be given any remuneration for their participation on the Board of Directors (all
members of the board are volunteers).