If you need food
Phone us at 613-722-8019 to place an order, or fill out an order form online here to put in an order for you and your family.
There are two options to receive your food:
curbside delivery on Tuesday, Wednesday & Thursday afternoons,  or,
scheduled pick-up in your own vehicle  on Tuesdays and Wednesday evenings, 5:30- 7:30pm*
** Please note that we only delivery in our catchment area. If you live outside of our neighbourhood, we are happy to schedule a pick-up time with you. 
*your order will be packed in boxes and due to the quantity of food, you must have a vehicle, and a confirmed pick-up time with us, in order to pick-up at this time.
Out of catchment note:
In order to access our food bank from out of our catchment instead of the food bank in your area, you must provide a referral from a doctor, social worker, or other health practitioner. Please call us for more information, or to find the food bank in your area click here.
Food Assistance
If you need emergency food assistance and you live between Bayswater Ave., Carling Ave., Island Park Drive and the Ottawa River, we're here to help.
To find out if you live in our catchment area, see the map below, or click here.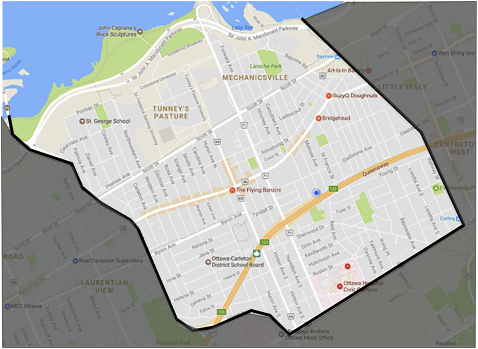 Get directions and contact information for the Centre.
What to Expect
We strive to offer fresh, local ingredients and stock healthy foods. We believe that food aid should foster improved physical and mental health so we focus on offering the most nutritious options possible. We also maintain a Good Foods List to  ensure we have a healthy range of ingredients to offer our neighbours in need.