Food Assistance
If you need emergency food assistance and you live between Bayswater Ave., Carling Ave., Island Park Drive and the Ottawa River, we're here to help.
To find out if you live in our catchment area, see the map below, or click here.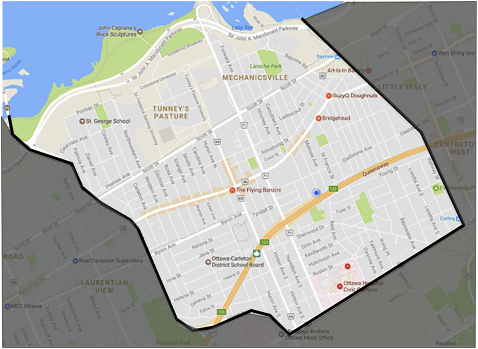 Get directions and contact information for the Centre.
What to Expect
We understand how difficult it can be when you don't have enough to eat. That's why we work to create a warm and welcoming environment at the Centre.
When you visit the Centre, you will be greeted by one of our friendly volunteers who will offer you coffee and some homemade treats provided by our community partners or prepared fresh by our resident baking crew. You will then meet with a member of our team to review the groceries we have available that day so that we can match your needs with our current inventory.
We strive to offer fresh, local ingredients and stock foods that are low in sugar, fat and salt. We believe that food aid should foster improved physical and mental health so we focus on offering the most nutritious options possible. We also maintain a Good Foods List to  ensure we have a healthy range of ingredients to offer our neighbours in need.
Our food bank hours are:
Tuesdays: 11am -2pm & 6pm -8pm
Thursdays: 11am-2pm

We stop processing intake at 1:45pm and 7:45pm. Please arrive before then to allow enough time for you to shop.
You can access the food bank once per calendar month.
What You'll Need to Bring
Please bring Proof of Address to every visit. (Please Note: Proof of address is not required for children under 18.)
On your first visit and every six months after that, please bring Identification for each person in your household.
Identification
Your identification can include one of the following: Birth Certificate, Provincial ID Card, Passport or
 Driver's License
Proof of Address
Your Proof of Address can be any document that has recently been mailed to you at your current address and that shows the date, your name and your address. Examples of a Proof of Address include a bank statement, a hydro or heating bill, a letter from a government agency, or your lease agreement.
If you are not sure of what to provide, please feel free to ask one of our volunteers and we'll be happy to help.