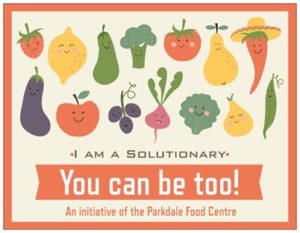 Three one-hour hands-on workshops on Food Justice offered to students from grades 4-6 every Monday at the Parkdale Food Centre. Each workshop includes a participatory conversation about big issues and a hands-on activity in our community kitchen. 
Cost: Please contact us.
For more information, or to book, contact Elle at 613-729-0980 or elle@parkdalefoodcentre.org
Workshop Goals
Inspire

students to understand the complex and interconnected problems of poverty, health and food insecurity in their neighbourhood.

Engage

students in understanding the problems being addressed by inviting them to bring forth their own ideas and opinions.

Equip

students to be "solutionaries" in their communities by providing entry points for action.
Workshop 1: Access to healthy food
Key Message: Many factors impact access to healthy food including where food is available in your neighbourhood, knowledge, skills, time, and kitchen equipment.
Big Questions:
Where do people access healthy food in our neighbourhood?

What are ways we can increase access to healthy food for those who don't have access to affordable ingredients, time for cooking, or have inadequate kitchens?
Workshop 2: Social Determinants of Health
Key Message: Our long-term physical, mental, and emotional health and well-being is impacted by lots of elements in the environment in which we live, learn, and play. These social determinants of health are all connected, by making a difference in one area, like providing health food or a welcoming space, we can impact many other factors in someone's life.
Big Questions:
Apart from healthy food, what else do we need to be healthy?

What elements of our neighbourhood contribute to our health and well-being?
Workshop 3:  Activism
Key Message:
Civic engagement is an important tool in the solutionary's toolbox for change and essential to participatory city-building. Engaging our representatives and decision-makers helps us to create resilient neighbourhoods.  
Big Questions:
What parts of our neighbourhood do we want to keep? Stop? Start?

What can we do ourselves? What can we ask our City Council to do?