Welcome to
the Community kitchen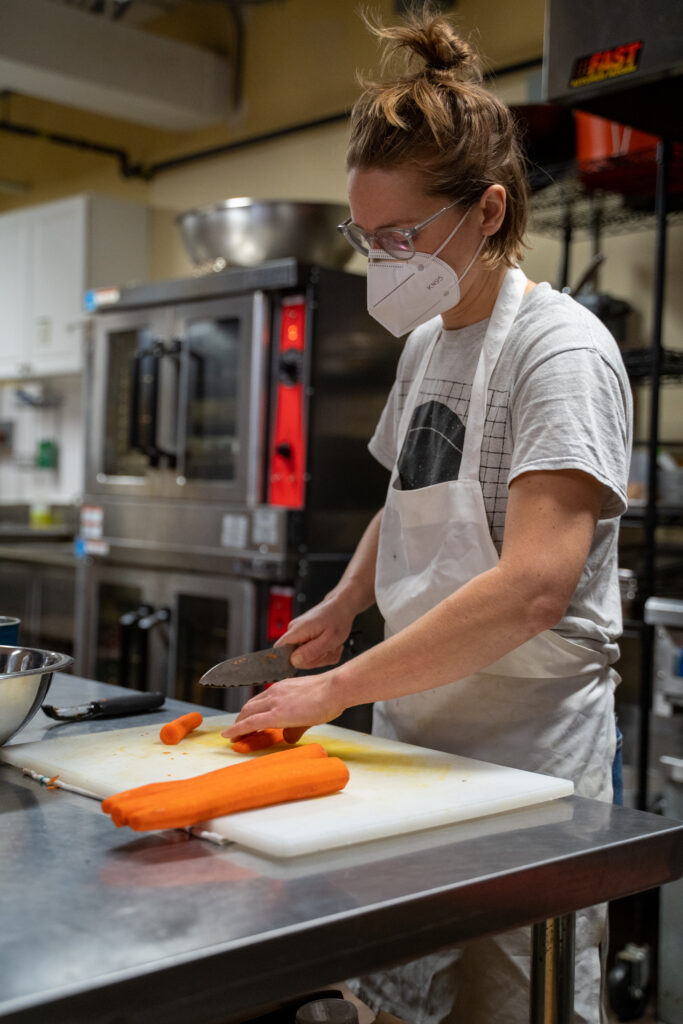 ORIGIN STORY – THE COMMUNITY KITCHEN 
Is the kitchen at 30 Rosemount Avenue really the Parkdale Food Centre's kitchen? Or is it something more? 
From as far back as when the Parkdale Food Centre resided at 89 Stonehurst Avenue, there has always been Staff and Volunteers, Board Members and Neighbours cooking together. In the early days at 30 Rosemount the small but mighty Staff along with Volunteers would prepare meals for the Community using what they had on hand with the simple intention of sharing food with others. Over time, more and more people came, to the point that every day of the week, large groups would gather to cook and eat together. It is always filled with knowledge sharing, laughter, sometimes tears and always a little (or a lot) of chaos. 
And with that the Parkdale Community blossomed and grew, the kitchen was no longer just for those who just resided in Hintonburg, but it was for people from all corners of Ottawa would make the trek to experience and enjoy our Community Kitchen.
The Parkdale kitchen never had anything to do with charity or being attached to a "food bank" but more to do with being a welcoming space, anyones kitchen, everyones kitchen- the Community's kitchen. 
The heart of our kitchen, is a collective gathering space where differences in age, ability, race or gender seem to disappear. It is the hearth of the Community, a place for sharing knowledge, laughter, and conversation, a place we are all drawn to. After all, it's a kitchen, doing exactly what it should. 
Introducing our cooking workshops. Where Neighbours share tools, skills and techniques while cooking with healthy, nutritious food. What is good food without the power to transform it?Without the power to share it?
 Learn more below
At Home Community Cooking
Virtual Cooking Workshops With Chefs Anna and Troy
An extension of the PFC kitchen: A virtual cooking class, everyone is welcome. Join the fun and magic that happens biweekly. Fresh and tasty ingredients shared with Neighbours. Each workshop focuses on a new recipe and a new adventure. Join from the comfort of your home.
Weekly Community Kitchen Programming