We've got some new volunteers here at the Parkdale Food Centre, and we thought it would be a great idea to introduce them to you over the next few months.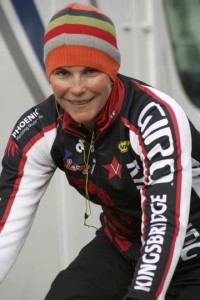 Today, we'd like you to meet Vicki. Vicki started volunteering with us in January and has been coming to the centre every Tuesday evening to help out. We sat down with Vicki and asked her a few questions about what brought her to us, her experiences at the Parkdale Food Centre and a few more nosey questions!
So why the Parkdale Food Centre?
Well, I had been looking for a place to volunteer for quite sometime and by fortunate luck I stumbled upon the Parkdale Food Centre. I think I first heard about PFC on CBC Radio and after that I started following the centre on social media. I really like the messages about good, healthy food and empowering people to be able to cook and learn about food.
I do live in Barrhaven so often people are surprised that I'm volunteering here. But for me, the location is irrelevant – rather it's the actions and messages that are important to me. I try to "live" in the entire city of Ottawa so even though my house is in Barrhaven, I'm often out in Hintonburg, Westboro, the Gatineau Park, Stittsville, etc. whenever I can.
Why did you decide to spend your volunteer time on a food and community-oriented mission?
Well, I like food. I appreciate how rewarding and satisfying it is to have a good meal. Food is so vitally important to all of us. And I really don't understand how in such a highly developed country we have so many people who cannot afford to purchase or even access good quality food. There is nothing that upsets me more than reading the statistics about children who go to school without breakfast and without a lunch.
Equally important to me is being able to make a tangible difference in the lives of other people. I've been so very lucky in my life with a stable childhood, a university education, a good job and lots of opportunities to travel and pursue my passions. Not very many people are this fortunate and I really believe it's important to do what I can to make even a minor difference in someone's day-to-day. So if this is simply making a batch of granola that we can hand out or pouring someone a cup of coffee and talking with them about their day – I'm happy and pleased to do it.
What do you do when you come to the Parkdale Food Centre to volunteer?
I help out in the kitchen. So some days I'm bagging up rice, oatmeal, tea, etc. to be made available for our neighbours when they come in to shop for their food. Other times I'm busy making big batches of granola that we portion out for neighbours (a healthier and more economical choice than boxed cereal). Some nights, I'm portioning out soup, making sandwiches, and other food to be served to neighbours when they come in.
It is non-stop in the kitchen on Tuesday night and I absolutely love it. I always go out and mingle with the neighbours and make sure everyone has eaten some of our fresh-cooked food. Sometimes this means I have to convince people that just because the soup is green it still tastes good!
Is there anything else you want to tell us about your experience so far?
Honestly, and I'm not exaggerating – coming to the Parkdale Food Centre on Tuesday evenings is the highlight of my week. In my short time volunteering at PFC, I've been fortunate to meet so many interesting people – both volunteers and neighbours. There is nothing better than seeing the smile on the face of someone when you give them a sandwich or a bowl of soup. I really do feel so lucky to get to be part of the Parkdale Food Centre.
I talk about my experiences with Parkdale Food Centre so much that I think my friends are growing tired of me talking about it… But, I believe this is part of it – if more people realised how easy it is to make a difference in someone's life, I really think they would volunteer and help out.