The day started out cool and overcast, but the sun emerged and it soon warmed up—a perfect fall day. It was a short bus ride out to North Gower where Rideau Pines Farm is located. For a lot of our neighbours, this is one of the few opportunities they`ll have to get out of the city and breathe in the fresh air and experience the serenity of the country.
We were greeted warmly by the Vandenbergs and given a tour of the fields. We soon got to work harvesting tomatoes, peppers, kale, peppers and leeks. Paul Vandenberg showed us how to harvest the vegetables and his brother, Matt, give us an enthusiastic demonstration on the different varieties of peppers (one of which had a rich brown hue and was called "chocolate"). We devoured peppers whole and juicy cantaloupe fresh off the vine. After picking tomatoes, leeks, and peppers, we stopped for lunch: sandwiches and muffins made by Parkdale Food Centre volunteers and apples from a local orchard.
Once we got back to the centre, we counted all of the bags of food (10 garbage bags full of kale alone!) and our neighbours got to take home what they harvested. We froze a lot of the harvest to give out over the winter, we gave some to our neighbours and another food bank, and some went to highJinx to distribute in their neighbourhood.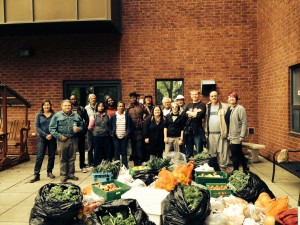 We`d like to thank Trillium and Rideau Pines Farm for giving our neighbours a chance to get out of the city, harvest food for themselves, taste truly fresh food, share recipes (thanks Amalia for the recipe on how to cook pumpkin leaves!), and contribute to their community in a meaningful way. We can`t wait for our next farm visit!