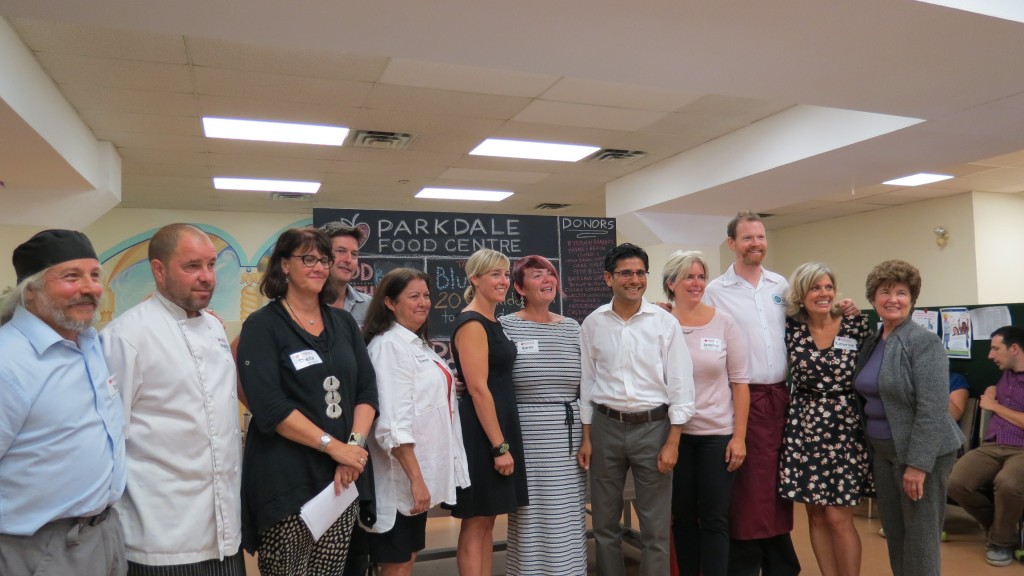 We knew we had to do something big to celebrate our amazing Trillium Grant.  Rather than a standard press conference announcement we "cooked up" something magical.  First we asked our neighbours who have attended cooking workshops to come in and help prepare some special appetizers. They worked with Chef Tom who hosts a monthly Italian Cooking workshop for us. Then we invited the chefs to come and be served appetizers from some of the very students they had worked with in previous Cooking Workshops. It was wonderful to see the pride in their faces as they saw the chefs tasting the delicious appetizers. It was a full circle moment where the students became the chefs!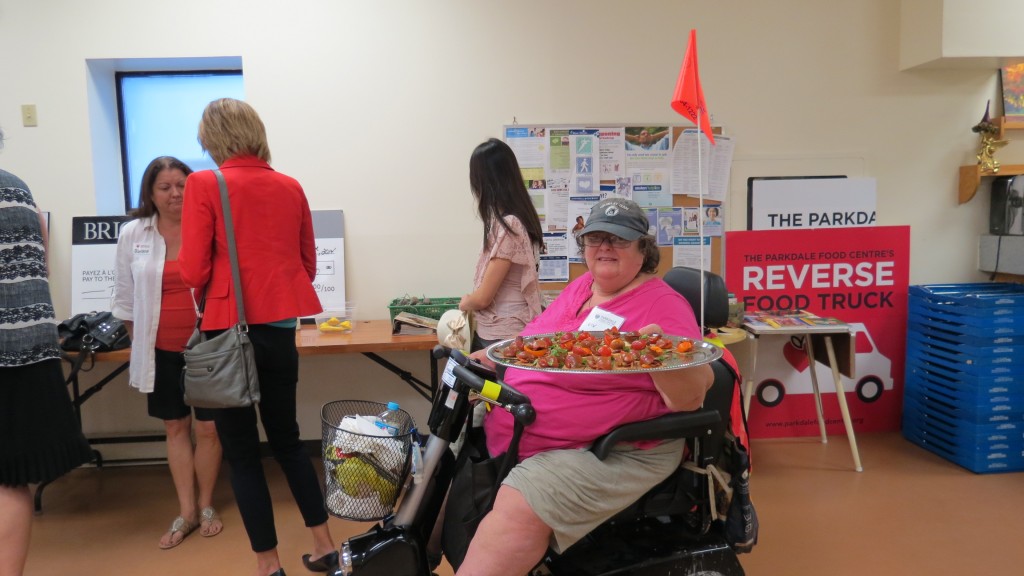 It was a great feeling to see the wide mix of PFC neighbours, local chefs, volunteers, Board members and many media attend the announcement.
For the actual announcement, Sherrie Franklin, a Board member from the Ontario Trillium Foundation (OTF) and local MPP Yasir Naqvi, presented the Parkdale Food Centre with a two year $92,800 OTF grant. "Parkdale Food Centre is a community hub committed to promoting and building vibrant and active lifestyles. With this important financial support from the Ontario Trillium Foundation, I am confident that they will build on their success and continue to provide healthy nutritious meals to vulnerable women, men and children in our community." MPP Yasir Naqvi, Ottawa Centre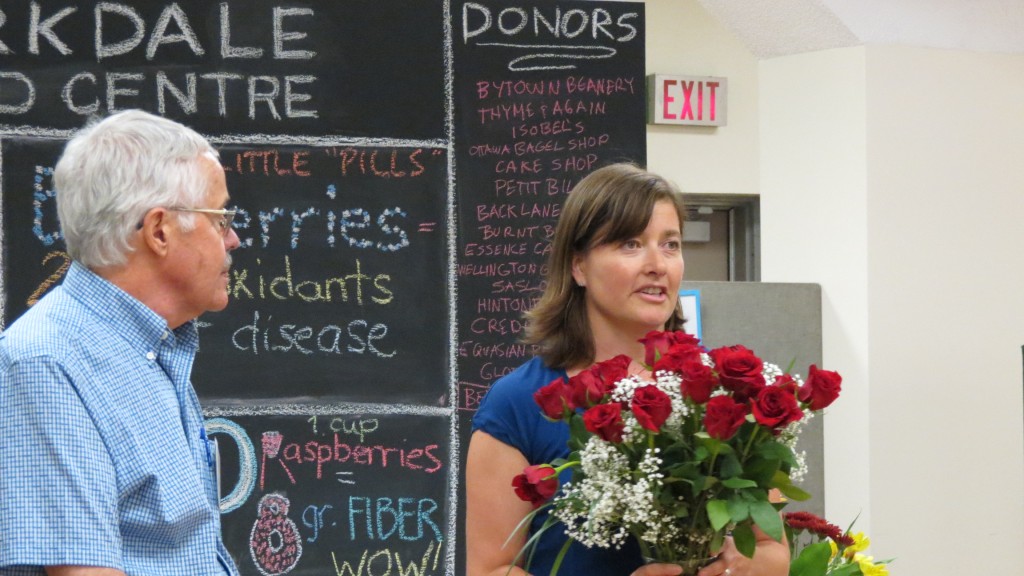 Don Flynn, Chair of the PFC presented Christine Earnshaw, a Board member and one two key grant writers (with Heather Hossie who couldn't make the announcement but we delivered the flowers to her!) with bouquets of red roses to say thanks for all their hard work that went into the grant. He stated "We are all looking forward to launching the programs funded by this grant and making an even larger contribution to our neighbours in need and the wider community. Grants such as these allow us to try out new programs and continue to expand how we can help our neighbours."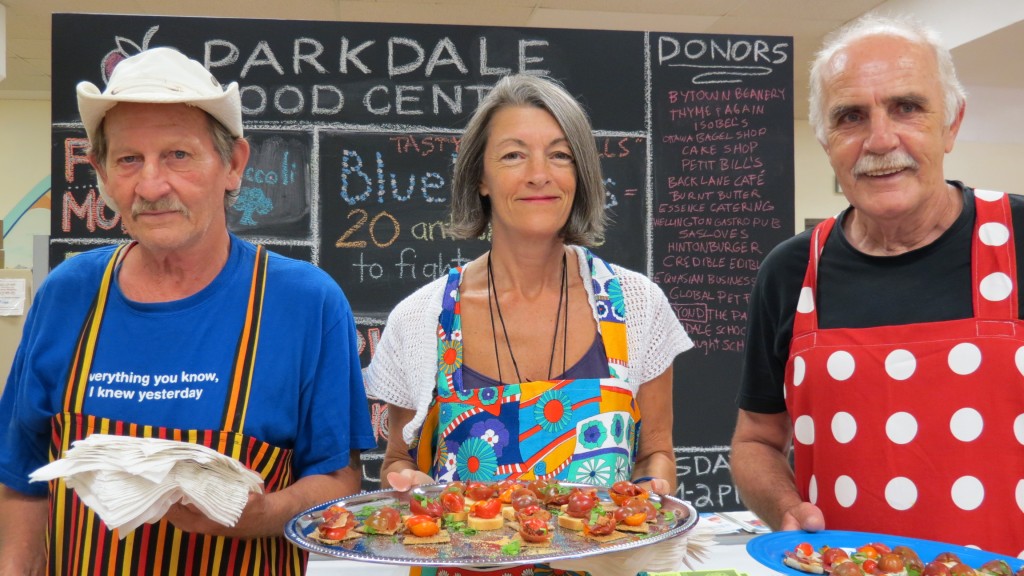 Two of our business supporters, Sheila Whyte from Thyme & Again and Carley Schelck from Urban Element also spoke about how the new programs and the Community Kitchen at PFC have impressed them and inspired them to find new ways to help our neighbours. Many of the chefs took time from their busy days to come and speak to the media about their experiences working in our communal kitchen. Thanks to Patrick from Absinthe, Jason from Essence Catering, Darlene Personal Chef Sam from West End Well, and Jen from Foodieprints. We continue to be humbled about how much this community gives back and how the various business leaders and chefs find time to support our endeavours.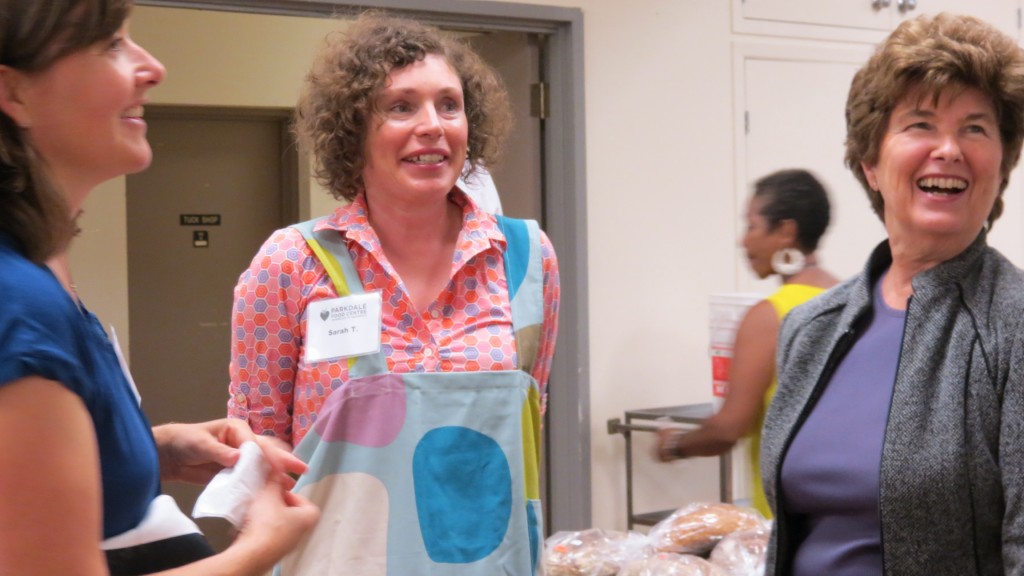 The OTF grant includes many different components but one we are very excited to get going are some partnerships with local organizations including Hidden Harvest and the Dalhousie Food Cupboard. This investment will also support the organization in leading the establishment of an Ottawa Network for Community Food Banks. At PFC we always strive to do more and we are excited to take this next step in our evolution.