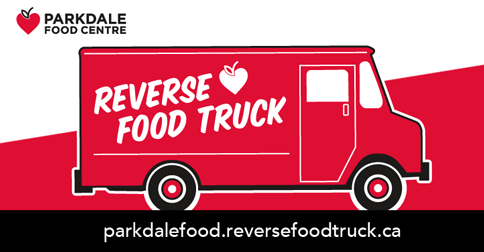 We're happy to announce that today we launched the world's first Online Reverse Food Truck at parkdalefood.reversefoodtruck.ca. This new and innovative channel for donations will give the local community here in Ottawa, and the broader community online a chance to help one of Ottawa's most dynamic food organizations through convenient, online giving.
The Reverse Food Truck is built on Shopify's ecommerce platform and allows supporters to donate fresh food, personal hygiene items, or support the centre's workshops without visiting the Centre during regular operating hours. "The Reverse Food Truck is open 24 hours a day, 7 days per week to accept donations. Many of our supporters enjoy choosing specific items to bring in, and often, parents will involve their children in the discussion about what donations they would like to provide," says Hilary McVey, Fundraising Chair on the Board.
Visitors to the online Reverse Food Truck site select the items they would like to donate and checkout in a few simple steps. All donations receive an eligible tax receipt immediately by email.
The website was designed and built by online marketing consultant and web developer David Hicks after visiting the 'real life' Reverse Food Truck pilot during the summer of 2014. The PFC team would like to thank him for pitching the online Reverse Food Truck concept and for volunteering to build the website. We hope other food centres might look at the model and realize an opportunity to complement their more traditional donation options. The PFC team would be delighted to share what we have learned through this process, as well as information about the steps involved from idea to launch, with other food centres.