It's time for the annual Government of Canada Workplace Charitable Campaign (GCWCC). Have you made your donation yet? Did you know that you can direct your donation to a registered charity of your choice, like the Parkdale Food Centre? Any Government of Canada employee that participates in the GCWCC can choose to direct their donations to a specific registered charity, like the PFC. Doing so is easy, and helps us receive stable funding throughout the year.
Read on below for step-by-step instructions. Making a directed donation is easy and can be done online through ePledge.  
——————————————
To use ePledge, contact your office or team's canvasser or GCWCC representative and they will give you login/access information. Payments can be made through payroll deduction, credit card, cheque, or cash.
Step 1: Once you've logged in, you will be asked to fill out your Pledge Type (one time, ongoing, etc) and then you will be asked to select your charity. To direct your donation to the Parkdale Food Centre, type our Registered Charity Number into the appropriate box: 889365003RR0001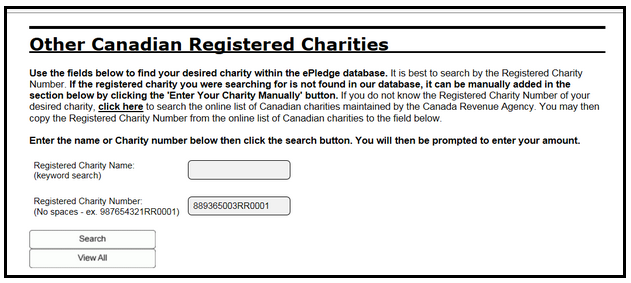 Step 2: Click Search. The following screen will appear, indicating that it has found the Parkdale Food Centre, with a space to enter your donation amount.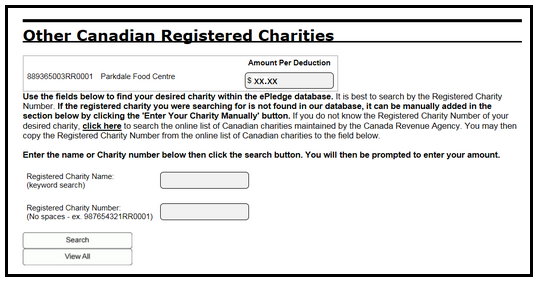 Step 3: Once you've entered your amount, click Next and the confirmation page will appear: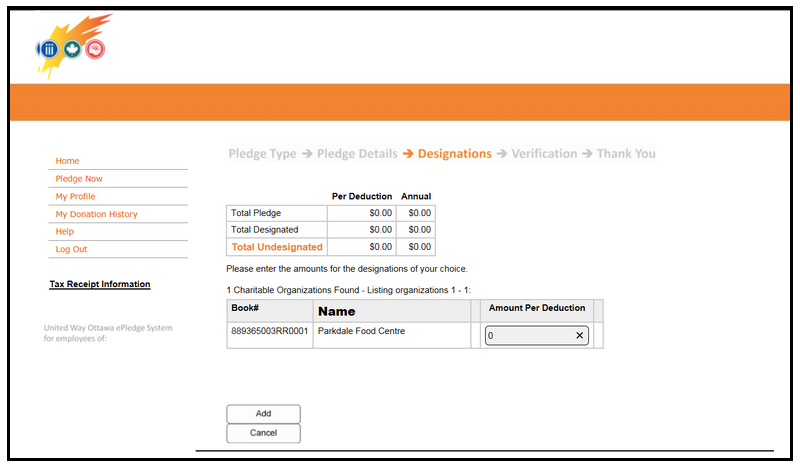 This is where you designate the amount per deduction that you'd like to donate to the Parkdale Food Centre.  Once you've input the amount click Add and then verify that everything is correct.  
Follow the remaining steps and voila! You've successfully made a directed donation.