My wife, Joan, and I had high expectations when we went to observe a grade 4-5 class learn and work on their Growing Futures project that was already underway.  Nevertheless, we came away from the experience two hours later astounded by what we had witnessed.  The centrepiece in the classroom was the project's 'food tower' which was lush with lettuce and herbs growing out of pockets on its sides.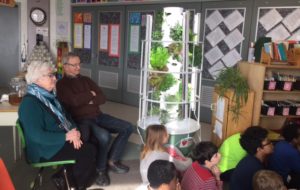 The Project Manager and cheerleader for the project in this and other Ottawa schools is Sue Hall.  She has already successfully introduced the Growing Futures in two Connaught School classes, and in other Ottawa schools, with more to come.  She does not hide her excitement.
The teacher of the class of about 20 kids, was Michele Richardson.  Joan and I had grown up in the days when teachers' lectured, with students only lightly engaged.  Here, virtually all 20 students participated with questions and suggestions, and excitement – they clearly loved this class.  The nature of the project was key to this, but so was Ms. Richardson, who gently controlled the proceedings.  On this day there was another central person, Wentsi Yeung, owner of Culture Kombucha which produces and wholesales a healthy drink that is sold in local stores.  The kids listened closely to the description of her operations, including how she so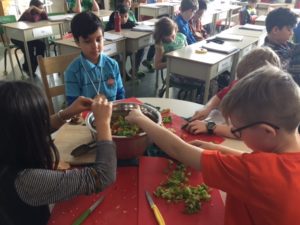 ld product, the production process, and a lot more.  Questions and suggestions flowed from the kids ("how much do you pay your staff"; "why don't you use a food truck").  The kids were clearly learning a lot about how to grow food, nutrition values, keeping financial records, and how to work as a group, etc.  Next they will be learning about marketing.  Significantly, Wentsi Yeung is also the class's business partner.  As this class closed she bought all the food tower's herbs, while the kids cut off the lettuce for use in their lunches that day.  New plants will be introduced into the tower the next class.
This experience will make a small but enduring difference in the development of these children.  Joan and I were grateful to observe a part of that experience.