written by Jocelyn Campbell
Dear Karen, Sue and Alissa,
I just wanted to thank you for inviting me to the launchpad for Growing Futures. I call it a launchpad because I believe it truly is an initiative that has the sky as its limits! 150 tower gardens is just the beginning.
What a great job the PFC team did to bring it all together yesterday at the Innovation Centre! I enjoyed myself tremendously. What a wonderful turnout! The energy in the hall was contagious.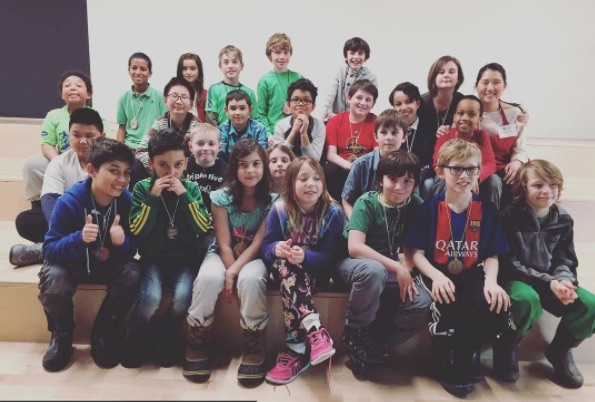 Connaught P.S. students at the Growing Futures LaunchI enjoyed talking to and visiting the different businesses operated by the students. The children had boundless enthusiasm! So nice to see. I asked one of the children if he planned on having his own business some day, and without any hesitation, he said, "For sure!" I am certain there were many like him in attendance yesterday.
It is obvious that a lot of work and time went into making this day possible. The event was super well-organized.
The fancy drinks (nice touch), the speeches (so much enthusiasm!), the excellent video, the letters written by the students to promote the towers "Buy a tower NOW!", (I almost bought one on the spot!?) the great food offerings, the Ottawa U photos… all contributed to make the launching of Growing Futures a huge success.
The children are learning so much. This initiative will indeed make life more equal for many of them thanks to their own efforts, initiative and commitment. What a wonderful gift you have given to the children! You are making a lasting impact on their lives.
Congratulations!