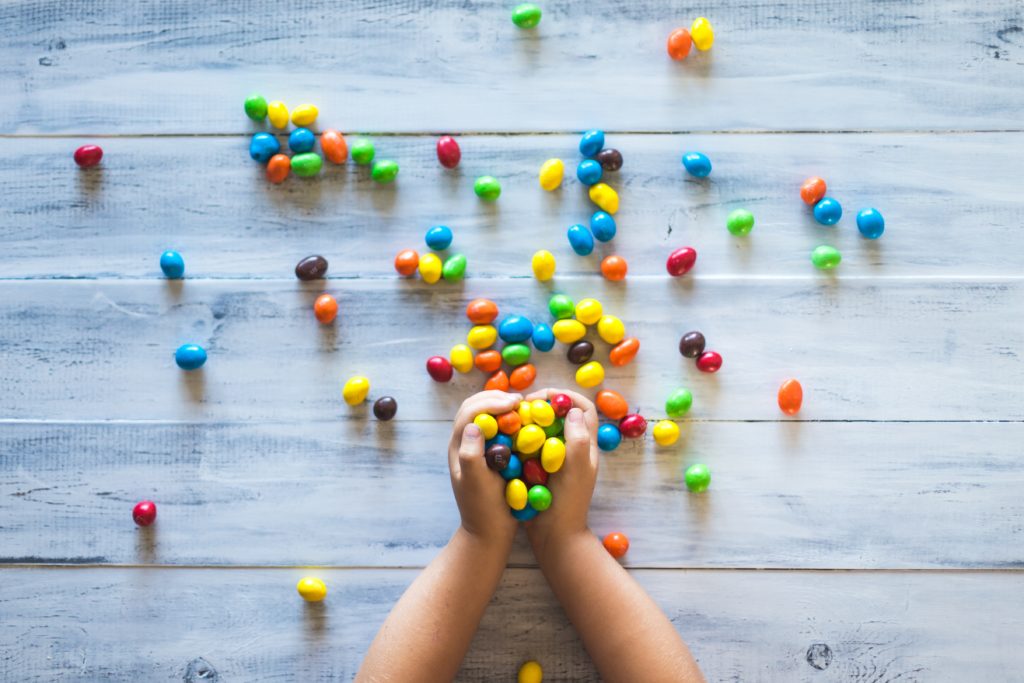 This morning it begins.
First a small bag of tootsie roll lollipops – clearly hitting the low mark on the candy desirability spectrum. Then a box of individually packaged Pringle chips. And more. And more.
Every year, on November 1st, food banks prepare for the influx of sugary treats parents around the country have deemed "too much" for their own kids – but a sweet treat for others! Others who likely also trick-or-treated for blocks and blocks. Newsflash: people who use a food bank are regular real-life in-the-flesh people. People who share the same concerns as you.
I was preparing to send out a reminder to folks about thinking twice before donating their hallowe'en candy to their local food bank, including to us at PFC. I did a quick google search to look for an article to point to, to enhance my teeny 140-character-limited appeal; I searched: "don't donate your halloween candy to the food bank." I did a double-take at the results.
"Sweet Ways to Donate Your Halloween Haul to Those in Need..
" from MommyPoppins. (Which I actually started reading until the line: "
perhaps the best thing to do with Halloween candy is donate it. That way your kids can enjoy a truly special treat: The feeling of helping others."
)
"How to donate Halloween candy to a good cause"
– TODAY.com
And perhaps the most flabbergasting: "
12 Ways to "Give-Back" Hallowe'en Candy
" from the San Diego Family Magazine.
Once on page 2 or 3 there were a few articles that were refreshingly reflective: "It strikes me as somewhat of a double standard to get rid of your kids' candy in the interest of good health, only to donate it to disadvantaged kids who may already have a poor diet and dental health" said Elizabeth Withey in the Edmonton Journal.
Thank you Elizabeth. We agree. Parkdale Food Centre is located in the Somerset West Community Health Centre – an intentional co-location that addresses the inextricable links between poverty and health. A partnership that recognizes that people living with low-income have poorer health and people facing health challenges are at a greater risk of falling into poverty, creating a cycle that is difficult to escape. So please don't bring us your halloween candy – if your kids don't want it, chances are your neighbour's kids don't want it either.
So what to do with those tootsie roll lollipops then???
We hear Wellington Village Orthodontics will buy-back your candy: Drop off your candy at 175 Holland Ave before 5pm tonight, on November 1st, and get $1 back for every pound. Plus be entered in a draw for a… Waterpik and Oral B Rechargeable Toothbrush!!!! We hear they will also make a donation to the Ottawa Children's Aid Foundation for every candy donation. Now that's how we #scarehunger.
Alissa Campbell