On a frosty November night last week, Cindy Scott and Roger Bryanton opened their home to friends and neighbours, artists and art lovers at their first "Pop Up" Living Room Art Show in support of the Parkdale Food Centre. Featuring local artists Christopher Griffin and Nicole Allen, the evening was a relaxed and intimate gathering where guests could mingle, meet the artists and learn more about their work.
The evening featured works from Christopher Griffin's recent collections, including a colorful array of hypnotic nudes, paintings from his 'Portage' and 'Panama' series and a beautiful caribou etched in cement.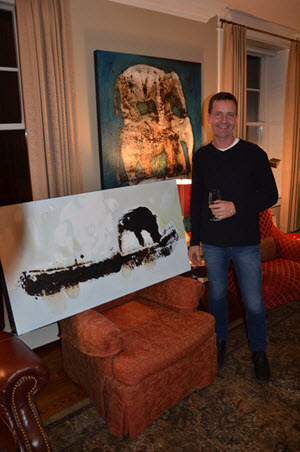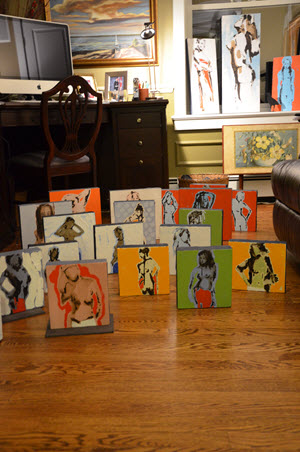 Christopher Griffin's hypnotic nudes / Christopher Griffin and a piece from his recent Portage Series
Nicole Allen's work included vibrant florals, forest scenes and her whimsical series of "cheeky birds", which were snapped up faster than you can say "chickadee"!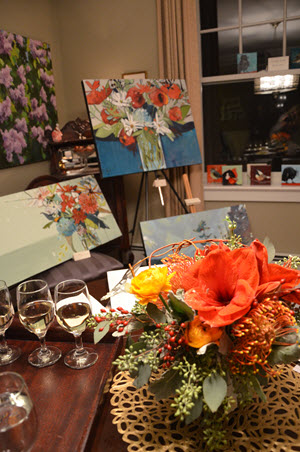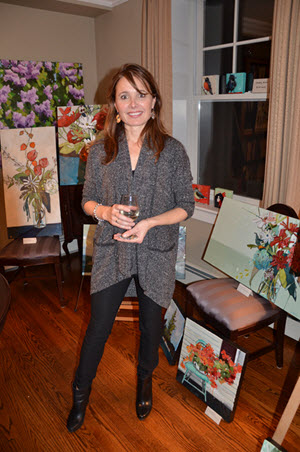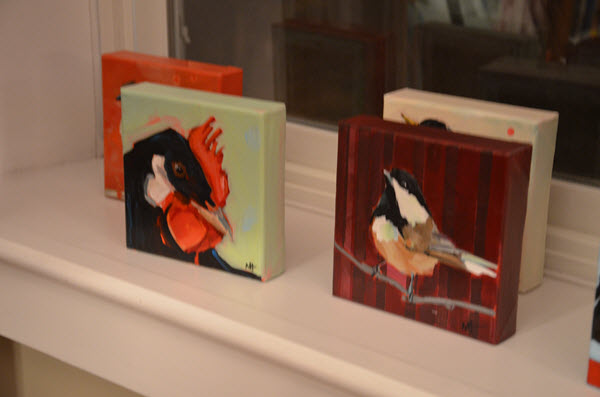 Nicole Allen's vibrant canvases, Cheeky Birds, and bold blooms
While the atmosphere was relaxed, the buying was brisk! Christopher's nudes were a hot item for pre-holiday shoppers while far-flung friends called in on Skype to purchase several of Nicole's colourful canvases. The event raised over $2200 for the Centre.
Guests mingle at 'Pop Up' Gallery
PFC Board Member Hilary McVey visits with Sue Ann Wright – happy new owner of one of Christopher's paintings
Karen Secord and Hilary McVey were on hand to mingle with guests and share more information on the Centre's upcoming move to 30 Rosemount Avenue and its plans for 2015. With the holidays just around the corner, the evening was the perfect way to celebrate the spirit of the season. Thanks to all of the art lovers who came out to lend their support and special thanks to Cindy, Roger, Christopher and Nicole for their enthusiasm and generosity.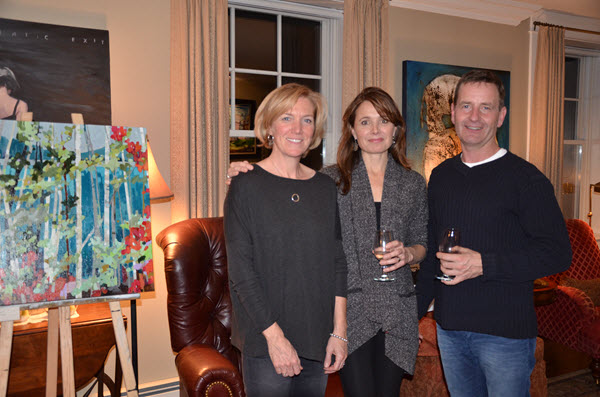 Sincere thanks to Cindy Scott, Nicole Allen and Christopher Griffin for your creativity and generosity