By Brett Serjeantson (member of Parkdale Food Centre board)
---
When I first came to the Parkdale Food Centre (PFC) in 2006, it was located on the corner of Somerset and Bayswater, where Hintonburg and Little Italy intersect.
I really had no inclination to interact with clients when I first volunteered. For me it was more about unloading the truck and stocking shelves. The anonymity and routine helped to take my mind off of life, while at the same time trying to make a difference.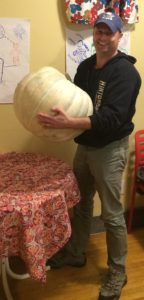 B
ack then, we had to carry food supplied from the Ottawa Food Bank by hand and navigate boxes and crates downstairs. At the time a good back was worth as much as any sunny disposition with clients. But times at the PFC have changed, and for the better.
The PFC's new Rosemount location is much more central, the facilities are amazing, and unloading the Food Bank truck is now a lot less challenging thanks to the Rosemount elevator. No more navigating down treacherous stairs with heavy boxes.
The emphasis is now where it should be – on clients and volunteers.
That means a greater emphasis on relationships, and ensuring an enjoyable and respectful experience for everyone involved.
But those aren't the only recent changes.
Over a month ago, PFC Chair Len Fardella asked board members to meet with clients and help them directly with their food requirements. For someone like me, who was essentially a stock boy, it was eye-opening in the extreme.
That's because no client fits the same profile. Some are single, some are families, some can't work, some are new to the country. They all had their own unique, yet challenging, situation.
One last thing that was also very apparent was the prevalence of mental health issues.
Mental health has entered the consciousness of our society more than ever before, and there's now less of a stigma on mental illness than ever. However, we're all learning to be more accepting and conscientious of the possible causes.
While volunteering that day, I asked myself: how much does a proper diet and hunger affect all of our mental states? 
I, for one, can attest hat having the opportunity to interact with others did wonders for my own mental disposition.
That said, everyone I spoke with after meeting with clients were grateful for the PFC and its volunteers. Clients also pitched in to help one another, and if a volunteer needed help (like myself), they even offered their assistance.
Perspective is a great thing and I was grateful of having the opportunity to be part of the day in the life of the Parkdale Food Centre.