On Thursday June 23rd, we hosted our third annual Gala – Branching Out – at the GCTC. We were thrilled with the location which gave us more space for our amazing crowd to mix and mingle.   The crowd was a great mix of donors, foodies, volunteers, Board Members, community supporters and some neighbours were thrilled to attend thanks to some tickets that were donated.  Our goal was to raise $20,000 which would pay for two months of our summer grocery bills.  We came tantalizingly close at $17,800.  We were thrilled with the generosity of everyone who attended and are determined next year will be the year we break $20,000!  Our shelves will be stocked over the summer months when we typically struggle to keep up with demand when many of our donors are away on summer vacations.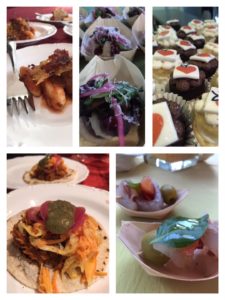 We couldn't put on the event without the amazing generosity of our food and drink providers.  Food stations by Absinthe, Allium, Bar Laurel, DISH, Holland's Cake & Shake, Supply and Demand, Thyme & Again, and Urban Element.  Folks were raving about the food all night.  
Daniel Ramjattan brought his amazing Cuban guitar music.  We also thank the crew at GCTC including Amelia and Catharine for being wonderful to work with.  A special thanks to Sheila Whyte for donating a crew of amazing servers from Thyme & Again which kept the evening flowing perfectly.  
Beyond the Pale generously provided an array of delicious local brews and guests enjoyed wine provided by Diamond Estate Winery c/o Liam Doody and Reif Estate Winery c/o Roger Linton/Linarc Consulting.  
The Silent Auction tables upstairs and downstairs were busy with amazing prizes.  Bidding was fierce!  We were thrilled with the generosity of local business owners who provided great prizes to help us meet our fundraising target.  The hottest prize of the night went to a Private Shopping Experience by Twiss & Weber followed closely by an amazing travel credit provided by VIA Rail.  Other great prizes included donations from Gallery 3, Uproar Paint and Paper, Diane and Jen, and Escape Manor were just a few of the generous donors who provided prizes for the auction.  We had many happy prize winners at the end of the night and a few folks regretting they hadn't placed that last bid in time!
It was wonderful to have 13Muesli on hand to both give out samples during the evening and also hand out a bag as a thank you to all the party goers on the way out.  They are close to wrapping up their year and we were bursting with pride to see their confidence in sharing with folks what the program has meant to them.
Our community helpers from Fisher Park Summit were there to greet folks at the door and also helped to raise enthusiasm at our Photo wall.  These helpers volunteer regularly at our Centre and truly understand the various programs we offer our neighbours.
We were also happy to have a video crew lead by Roberta Bouchard with camera folks Ryan and Nick.  We got some great clips of guests chatting about the Centre and please watch for a new video coming up where we share the thoughts out to you all.
The Photo wall was new for us.  A way to share all the different programs we offer to our neighbours.  It was also wonderful to read the many thoughtful responses to the questions of Parkdale is … , Food is…, Hunger is… and Community is….. . We took all the amazing responses and are planning to display them up on the walls of the Centre very soon.
When we look at how far this event has come in three years it is reflective of how far the Parkdale Food Centre has come.  The supporters are many but the need remains.  It's our largest event of the year but we feel the community support.  Thanks to all of you for letting us raise the funds we need to support your neighbours.
Until next year!
Photos below by JR Photography