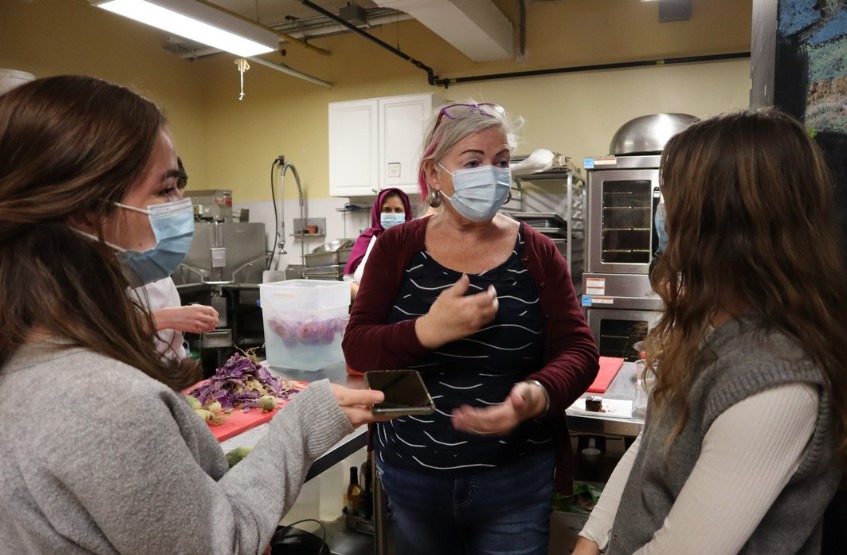 The Challenge of Upholding Human Rights Through Charity
By Karen Secord
Last week someone dropped off a bin of second-hand underwear. This came on the heels of a donation of mostly expired tins from a "food drive"; a box of gross moldy produce, and toiletries that someone had partly used then discarded.
It is hard not to feel deflated. It's why our commitment to creating spaces where wholesome food is the centerpiece for connection, health and belonging has been so important, our mantra – Food is a Human Right echoes throughout 30 Rosemount and 5 Hamilton Avenue.
It's also why we try to direct the generosity of people away from "food drives" and towards long term, much more useful ways of contributing towards a solution. Our goal is equitable access to food in a system where there is individual choice. One that doesn't look like, as my friend Graham Riches says, "leftover food for left behind people".
Food is a basic human need that we all share in order to maintain good physical and mental health. In rich countries like Canada, there should be no question that all people at all times should be able to feed themselves with choice and dignity. At Parkdale Food Centre we have built an infrastructure that supports, (although tenuous at best, due to a nearly complete lack of reliable funding) multiple access points to fresh, delicious and nutritious food.
News reports of record food increases are like a slap in the face when many families are budgeting for their groceries each week. We buy produce by the truckload to stock the shelves at our Mino'weesini Grocery Program and distribute to our three no-cost Fresh Eats markets. Not long ago a case of romaine cost $55.90. This week it is $179.99. A case of tomatoes exploded to $89.95, while the price of pepper is $23 per case.
It's the "perfect storm" – unheard of price increases, low wages, a severe lack of affordable housing, plus stagnant, woefully inadequate social assistance rates. 
The predictable outcome is more people unable to afford food for themselves and their families; more people coming from across Ottawa to access our programming, particularly the three no-cost Fresh Eats markets on Friday, Mino'weesini Grocery Program, our virtual cooking workshops with Chefs Anna & Troy, the Community Fridges and our community meals. While our basic commitment to the Ottawa Food Bank, like all of their 26 community food agencies, is to provide just three days of food once per month for each individual living in the area defined as our catchment. Here we always offer much more than that. At Mino'weesini, Neighbours have agency; they not only shop for the food that serves them best but they can come back multiple times with the points they are given, depending on their needs.
We are proud of the community service we provide to Ottawa residents. However, we are worried and I'm asking for your help. We have a huge financial gap to fill by year's end if we are to keep up the same level of service, given rising costs and increased demand. Here are our specific "asks" from you:
We will not be running a family sponsorship program this year. We have started referring families to other organizations that provide these services. Instead, we are hoping that you will donate gift cards from Walmart, Giant Tiger or the Superstore.
Please, support us on Giving Tuesday, by donating here, your contribution will be matched dollar for dollar. 
If your family, office group or team wants to host a collective fundraiser, we would love to work with you! Be in touch with Heather  heather@parkdalefoodcentre.org
We are going to weather these difficult times together by helping each other. If you are curious about what we do, why not give me a call?! I'd love to have a virtual chat, or better still, come join us for lunch! There is no better way to understand the intersection of good food and good mood than visiting PFC at lunchtime on a Tuesday or Thursday.
We hope to see you around our table very soon!