"Corporate social responsibility", as a term, has the look of typical business-speak, doesn't it? But don't let that deceive you – CSR is not just another piece of jargon from the corporate world.
For those new to the term, CSR "aims to embrace responsibility for corporate actions and to encourage a positive impact on the environment and stakeholders including consumers, employees, investors, communities."
And as a philosophy and a practice, it's become a key part of the way some of the best companiesdo business.
MediaMiser has our own dedicated CSR Committee and, while we conduct initiatives throughout the year, it's the holiday season that really brings into focus the importance of helping our community.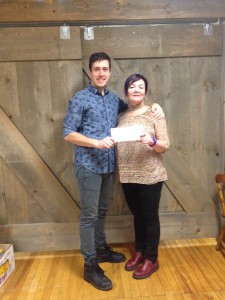 This year, as in several years past, we've made the Parkdale Food Centre our charity of choice. As an organization dedicated to providing emergency food assistance to those in need, it embodies the values both of the season and of social responsibility.
Two gift baskets were donated by one of our employees, Donald Den, who couldn't be in Ottawa for the holidays. We sold tickets to raffle them off, with all the proceeds going directly to the Centre.
And it's turned out to be our best year yet: with an appetite for giving (and maybe for those salted caramels in the "sweet" basket), MediaMiser raised around $600.
Charity is a fundamental part of citizenship, and we're proud to donate what we can to the Parkdale Food Centre. This holiday season, we're making it our giving moment.
Heck, if it's good enough for the Governor General, it's good enough for us!
Originally posted by Marcus Kaulback at MediaMiser
Our Giving Moment to the Parkdale Food Centre